Rating: ★★★★★
Title: Midnight Sun
Author: Stephenie Meyer
Midnight Sun is a fantastic addition to the Twilight Universe that I didn't know the world needed.
I read the entire Twilight series for the first time in 2019, so I'm hardly the typical fan, but I remember thinking at the end of Breaking Dawn that I was going to miss Bella Swan as a character. I enjoyed seeing that world through her eyes.
There's a lot of hate on Bella Swan as a character. And you know what? I love butt-kicking, bad-ass heroines as much as the next book worm, but at the same time… the vulnerability of Bella Swan (though petulant at times) was refreshing and endearing.
Bella Swan actually has a lot in common with Katniss Everdeen, and I'll likely make a blog comparing the two and explore why Bella is reviled while Katniss is revered in the literary sphere… but that's a topic for another time. 
Let's get on with the review.
Midnight Sun is the story of the first Twilight book told from Edward Cullen's perspective. You think you know the story, but you don't know the whole story. In this book, we find out things that we never knew – because Bella didn't know them – including secrets that Edward purposefully kept from her.
Falling in love with Bella through Edward's eyes just made me miss her character more. We got to meet her all over again from an outside perspective – both through Edward himself and through the minds that he occupies with his vampire special abilities.
It also made me appreciate Edward's struggle and his passion. I LOVE his reaction to their first kiss. It was poetic and beautiful. Also, he does a really cool favor for Angela that made me smile.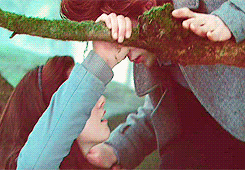 I wasn't sure if Stephenie Meyer would be able to make Edward's voice completely distinct from Bella's, but I was pleasantly surprised. She nailed it. Edward speaks with an elegance that we don't get from Bella. 
Like this:
"For just a second, I saw Persephone, pomegranate in hand. Dooming herself to the underworld. Is that who I was? Hades himself, coveting springtime, stealing it, condemning it to endless night."
and this:
"What strange alchemy was this, that the touch of lips should be so much more than the touch of fingers?"
Now THAT's a reaction to a first kiss! Holy smokes! 
In short, if you liked Twilight, I highly recommend Midnight Sun. If you've never read Twilight, you can read Midnight Sun as a standalone and still be able to follow the story perfectly.
This unforgettable tale as told through Edward's eyes takes on a new and decidedly dark twist. Meeting Bella is both the most unnerving and intriguing event he has experienced in all his years as a vampire. As we learn more fascinating details about Edward's past and the complexity of his inner thoughts, we understand why this is the defining struggle of his life. How can he justify following his heart if it means leading Bella into danger?
In Midnight Sun, Stephenie Meyer transports us back to a world that has captivated millions of readers and brings us an epic novel about the profound pleasures and devastating consequences of immortal love.
Buy this book on amazon
"Could a dead, frozen heart beat again? It felt like mine was about to."
"My life was an unending, unchanging midnight. It must, by necessity, always be midnight for me. So how was it possible that the sun was rising now, in the middle of my midnight?"