Rating: ★★★★★
Title: The Lost Apothecary
Author: Sarah Penner
Like a bottle of poison, The Lost Apothecary should come with a warning label.
WARNING: May cause insomnia and drowsiness the next day at work because you could not put this book down and read it until all hours of the night. Side effects include sitting on the edge of your seat, audible gasps, and a burning desire to take a London vacation. Please read responsibly.
However, if you like to live dangerously and you love discovering books that you will binge read until three thirty in the morning because you absolutely couldn't tear your eyes away from the page, then The Lost Apothecary is your book.
This book hits five stars on every level: the prose, character development, plot, and pacing are all superb. It was utterly engrossing. I just HAD to know what happened.
There are three points of view in this book, two set in the past and one in present day. When I first heard that there was going to be a modern day POV, I'll admit I was a smidge skeptical about how well it was going to work out. But the two storylines are expertly woven together, parallel heroines each fighting their own battles across the centuries. I was invested in both timeframes. Each chapter leaves breadcrumbs and enticing cliffhangers that keep you reading to the satisfying conclusion.
I received an eARC from NetGalley in exchange for an honest review.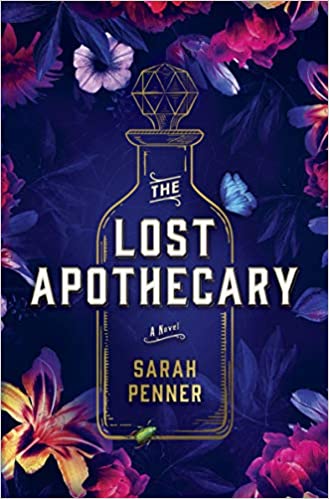 Hidden in the depths of eighteenth-century London, a secret apothecary shop caters to an unusual kind of clientele. Women across the city whisper of a mysterious figure named Nella who sells well-disguised poisons to use against the oppressive men in their lives. But the apothecary's fate is jeopardized when her newest patron, a precocious twelve-year-old, makes a fatal mistake, sparking a string of consequences that echo through the centuries.
With crackling suspense, unforgettable characters and searing insight, The Lost Apothecary is a subversive and intoxicating debut novel of secrets, vengeance and the remarkable ways women can save each other despite the barrier of time.